Well I thought I'd start things off...
By now everyone has heard of alpha.org's misguided attempt with their global advertisement's going up with the question "Does God Exist?", and giving the only options "yes", "no" and "probably". Right from the outset, before even having had researched what alpha.org's intentions were, it was bluntly obvious. Unfortunately for them, it's now backfired. As of 15th October, the stat's show as following:
Yes: 3%
No: 97%
Probably: 1%
Apart from only being able to achieve a mere 3% 'yes' vote, it add's up to 101% ...??? I think they've got more problems than the obvious!
Make a contribution, head on over to alpha.org and put a big cross on that No. You can vote as many times as you like...
Take a look: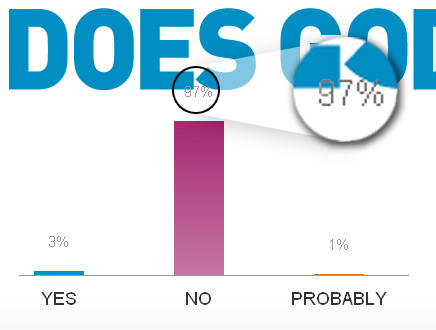 Admin




Posts

: 94


Join date

: 2009-09-07


Location

: Australia



On the ALPHA site there is a banner with a man standing on the top of a mountain looking at a beautiful view with the caption, "Is there more to life than this?" And I think underneath it should say "Why do you think there should be? You ungrateful bastards."
Admin




Posts

: 13


Join date

: 2009-09-04


Age

: 40


Location

: Madison, WI



I voted in this, (no ofc). So funny to see this poll get owned!




Posts

: 6


Join date

: 2009-10-15


Age

: 44


Location

: UK






Posts

: 32


Join date

: 2009-12-02



I couldn't access it. I kept being sent to the Canadian site.



Posts

: 1


Join date

: 2010-03-21



I know they've blocked several non-religious sites that linked alpha's site to vote. I'm hoping they haven't done the same for this.

Try punching in alpha.org into the title bar, and it'll redirect you.
Admin




Posts

: 94


Join date

: 2009-09-07


Location

: Australia





Similar topics
---
Permissions in this forum:
You
cannot
reply to topics in this forum